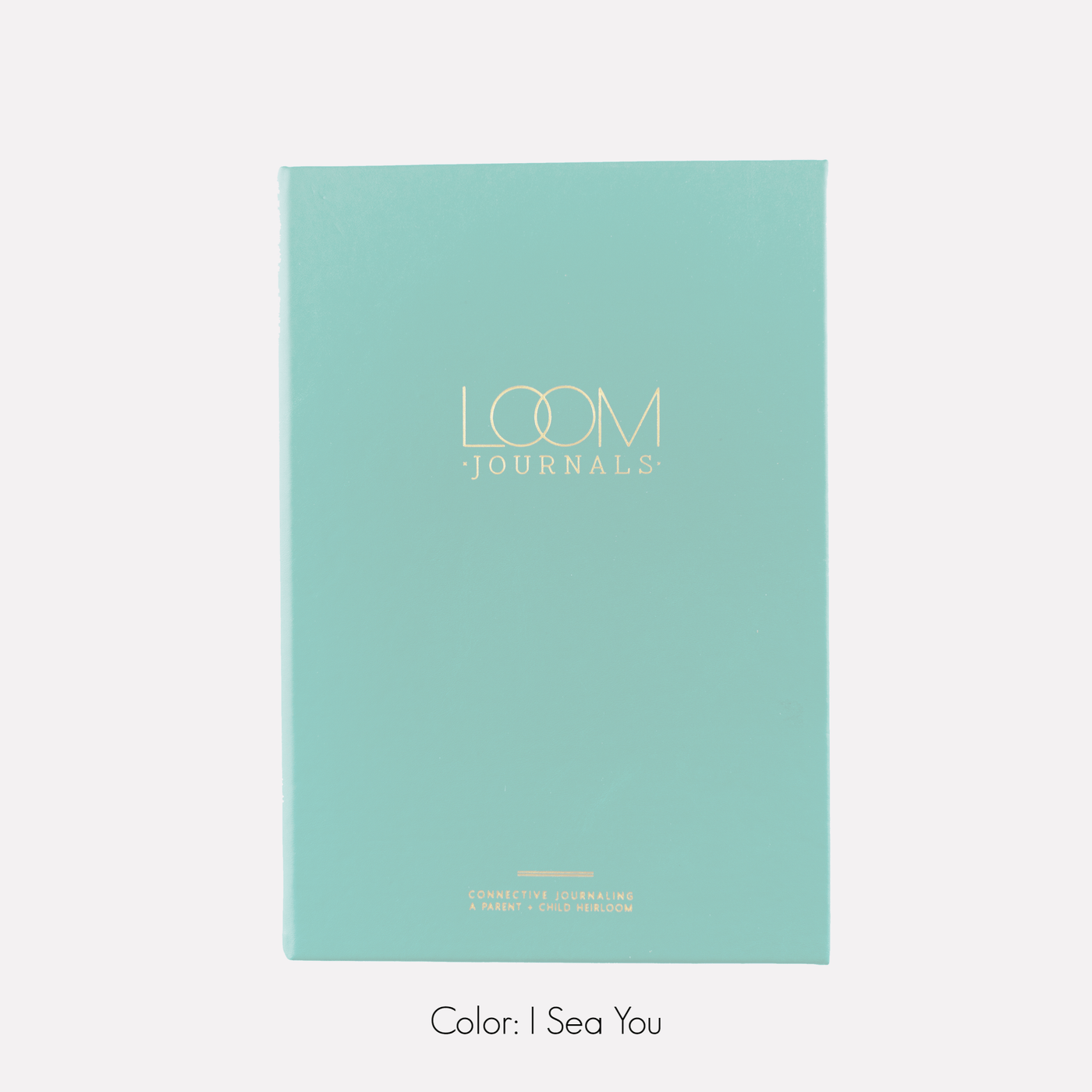 Loom Journal
Parent-Child Journal
$44.99 $0.00
Do you want to know what's in your child's heart and mind?

The Loom Journal will help you create space for more connection with your child. It's a place where you can open up and share feelings and experiences together in a fun and meaningful way. 
The Loom Journal is a simple but powerful journaling tradition that will become a family heirloom and treasured keepsake for years to come! 
Loom Journal is beautifully designed to foster off-screen communication and connection with your child in a way that's never been done before: through what we call Connective Journaling.
Why you'll love your Loom Journal:
Develops and strengthens the parent-child relationship 

Screen-free connection 

Improves reading, writing, and communication skills in an engaging way

A safe place to communicate, connect, and express yourselves freely

Sparks creativity and imagination

Contains research-backed practices of gratitude, affirmations, and the growth mindset

Helps your child learn his or her place in your family and in the world

A keepsake you'll treasure forever 
Design elements you'll love: 
Perfect bound so it lays flat when you write 

Archival paper that will last for years to come

Modern, timeless design

Keepsake pocket to hold mementos

Ribbon placeholder to keep your spot

Gold embossed vegan leatherette cover
*Each journal comes with a mini booklet of prompts to start conversations inside and outside of the journal.
Important Shipping and Fulfillment Information
Read
Close
We want to provide the best experience and help you plan for the scheduled arrival of your order. Please understand that shipping by carriers including USPS may experience delays starting from early November through Christmas Day due to increased volume.
Fulfillment:
We fill your order in 2-3 business days in the order in which it was received.
Carrier Pick-up:
Your order gets picked up the next day by the carrier and gets scanned in at the facility by the end of the day.
Delivery:
The carrier transports and delivers your order. Please understand that for USPS in particular, that the number of days specified in the shipping method is a best estimate and not a guarantee.
Shipping Cost:
The shipping cost is calculated by the carrier at checkout based on the destination address. We are a small business that lacks the buying power of much larger online retailer and often subsidize part of the shipping costs.
Customs:
Customs duties may be charged on international orders and are your responsibility. We are unable to anticipate or calculate customs duties prior to shipping your order.