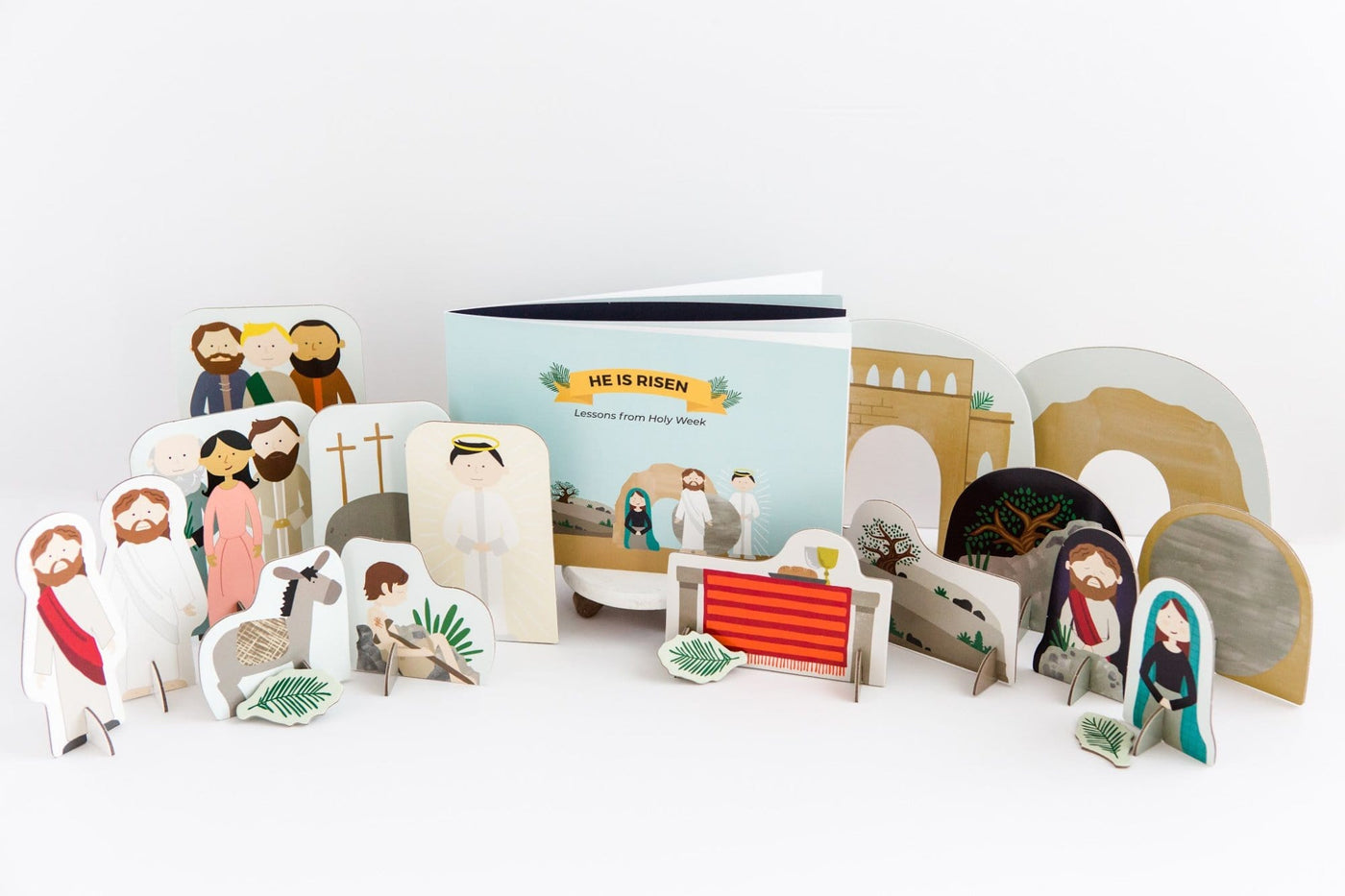 New Tradition Crafts
He is Risen: Lessons from Holy Week
$42.99
Create a Christ-centered Easter tradition in your home with our new original product, He is Risen: Lessons from Holy Week. Gather your little ones and study the important events of Holy Week, culminating with the first Easter, in a hands-on and engaging way. This new Easter tradition goes beyond learning about the events by providing discussion prompts to discover simple lessons and application to your life today.
Read and discuss all eight stories in one sitting or study a story each night leading up to Easter Sunday. Either way we've done all the work for you to start within minutes of opening. Simple and beautifully designed for kids 2-11 years old.
In your Easter set you will receive:
3 sheets of double-sided chipboard pieces with removable stands
17 unique images
8 story scenes from Holy Week
24 page illustrated companion book with scriptures, summary, and discussion prompts
Designed to be non-denominational, references used in the companion book come from the King James version of the Holy Bible. Stories included in this set:
Triumphal Entry
Christ Teaching and Healing
The Last Supper
Gethsemane
Crucifixion
Burial
The Empty Tomb
Resurrected Christ Appears
Please Note: Each set comes with 3 chipboard sheets. Chipboard sheets are scored and need to be punched out before first use. Stands are removable and may fit tightly when first assembled. Each chipboard piece is printed double sided with a different image on each side. Some images in this product listing show two sets to illustrate the reversible pieces.
Important Shipping and Fulfillment Information
Read
Close
We want to provide the best experience and help you plan for the scheduled arrival of your order. Please understand that shipping by carriers including USPS may experience delays starting from early November through Christmas Day due to increased volume.
Fulfillment:
We fill your order in 2-3 business days in the order in which it was received.
Carrier Pick-up:
Your order gets picked up the next day by the carrier and gets scanned in at the facility by the end of the day.
Delivery:
The carrier transports and delivers your order. Please understand that for USPS in particular, that the number of days specified in the shipping method is a best estimate and not a guarantee.
Shipping Cost:
The shipping cost is calculated by the carrier at checkout based on the destination address. We are a small business that lacks the buying power of much larger online retailer and often subsidize part of the shipping costs.
Customs:
Customs duties may be charged on international orders and are your responsibility. We are unable to anticipate or calculate customs duties prior to shipping your order.