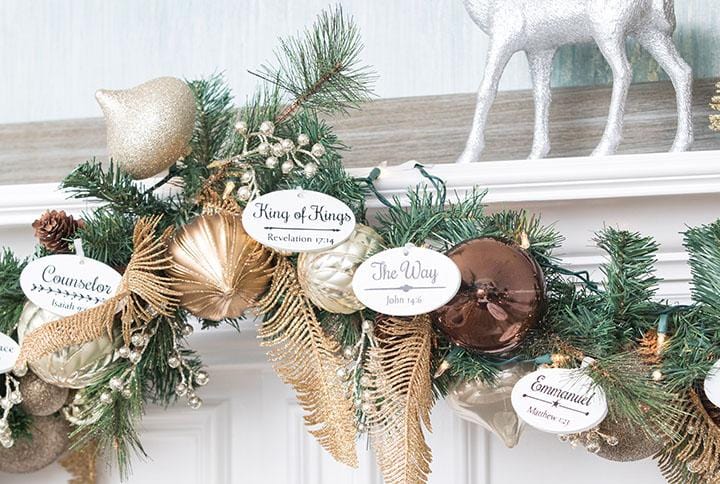 New Tradition Crafts
This is the Christ Ornament Set
$26.99
This set includes 12 beautifully painted and finished wood ornaments. Each ornament is printed with a biblical name or title of Jesus Christ with a scriptural reference. Add them to a wreath, Christmas tree, or your custom display. Can be used for Christmas or Easter as a visible reminder of the true purpose of the holiday. Makes a great gift for your family and friends.

Included in this set: Lamb of God, King of Kings, The Way, Messiah, Mediator, Jehovah, Bread of Life, Emmanuel, Light of the World, Prince of Peace, Counselor, Redeemer.

Note: Product images include suggested display options and ideas. Hanging hardware, ribbons, or strings are not included.  Ornament dimensions are 2.25 in x 3.75 inches.

Shipping rates are calculated at checkout. Orders will be shipped within 3-5 business days from the date of purchase.
Important Shipping and Fulfillment Information
Read
Close
We want to provide the best experience and help you plan for the scheduled arrival of your order. Please understand that shipping by carriers including USPS may experience delays starting from early November through Christmas Day due to increased volume.
Fulfillment:
We fill your order in 2-3 business days in the order in which it was received.
Carrier Pick-up:
Your order gets picked up the next day by the carrier and gets scanned in at the facility by the end of the day.
Delivery:
The carrier transports and delivers your order. Please understand that for USPS in particular, that the number of days specified in the shipping method is a best estimate and not a guarantee.
Shipping Cost:
The shipping cost is calculated by the carrier at checkout based on the destination address. We are a small business that lacks the buying power of much larger online retailer and often subsidize part of the shipping costs.
Customs:
Customs duties may be charged on international orders and are your responsibility. We are unable to anticipate or calculate customs duties prior to shipping your order.