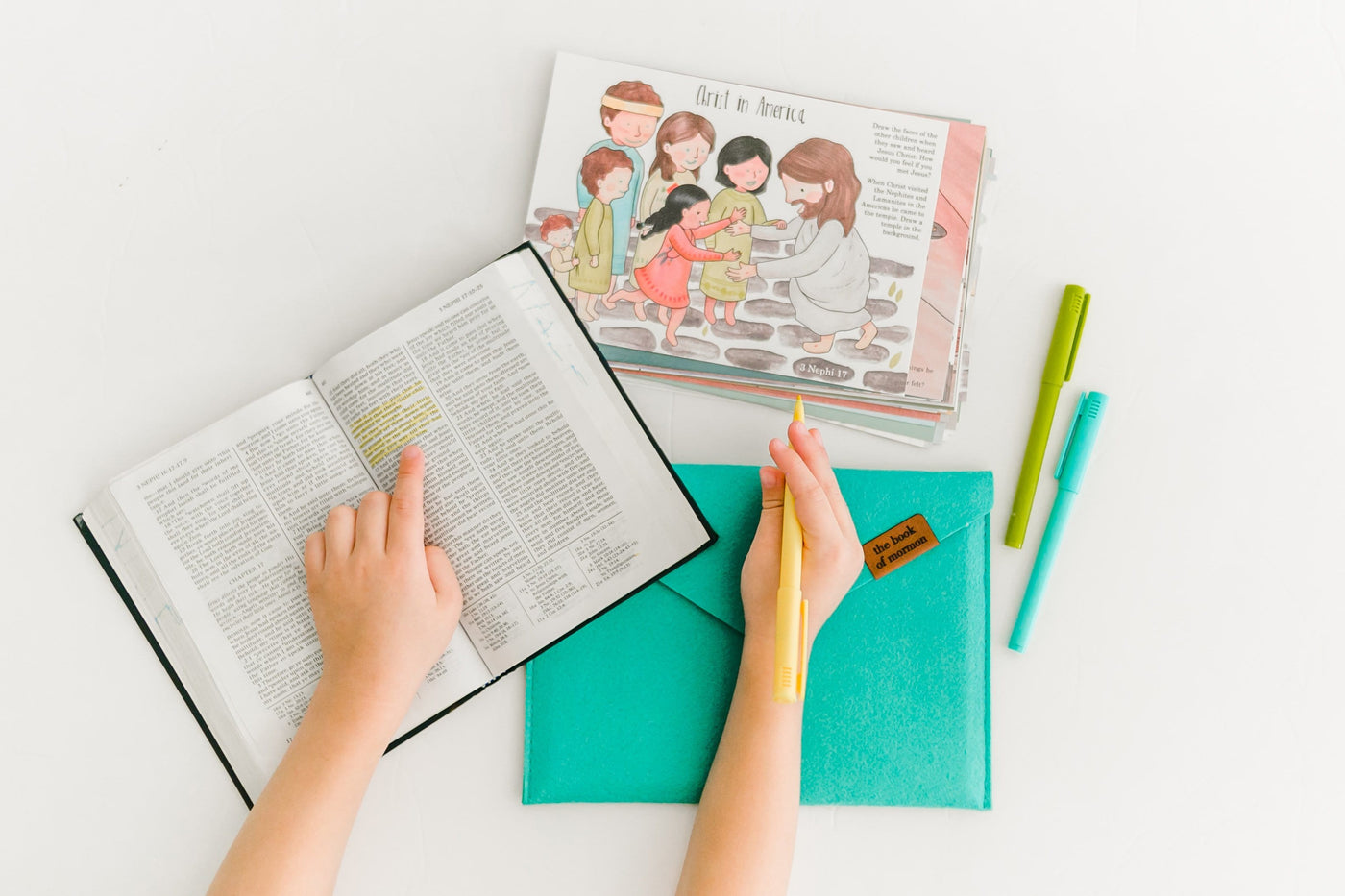 L.DZ Studios
Book of Mormon Activity Cards
$24.99 $0.00
Keep your little ones learning, playing, and being creative with a set of 26 Book of Mormon dry-erase Activity Cards.

Perfect for home or on the go, these dry-erase cards assist your child to get to know the stories and people from the Book of Mormon better. Many of these cards are referenced with scriptural accounts and accompanied by thoughtful questions. Each activity card is beautifully illustrated so that your child comes to a deeper love and understanding of our Savior, Jesus Christ. These cards are perfect for your little artist they can be wiped clean so that they can doodle on them again and again.

The recommended age is 5+ or able to read.

Size A5, quality print, and cellophane layer. Comes with a pink/salmon colored felt storage envelope. Dry-erase markers are NOT included with the purchase.

Some colors and brands of dry-erase markers may stain these cards. It is recommended to test in a small area first or use black.
Important Shipping and Fulfillment Information
Read
Close
We want to provide the best experience and help you plan for the scheduled arrival of your order. Please understand that shipping by carriers including USPS may experience delays starting from early November through Christmas Day due to increased volume.
Fulfillment:
We fill your order in 2-3 business days in the order in which it was received.
Carrier Pick-up:
Your order gets picked up the next day by the carrier and gets scanned in at the facility by the end of the day.
Delivery:
The carrier transports and delivers your order. Please understand that for USPS in particular, that the number of days specified in the shipping method is a best estimate and not a guarantee.
Shipping Cost:
The shipping cost is calculated by the carrier at checkout based on the destination address. We are a small business that lacks the buying power of much larger online retailer and often subsidize part of the shipping costs.
Customs:
Customs duties may be charged on international orders and are your responsibility. We are unable to anticipate or calculate customs duties prior to shipping your order.