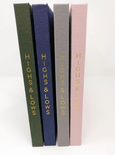 New Tradition Crafts
Highs & Lows Journal
$38.00 $0.00
Focus on the Highs of the day and lovingly discuss the Lows of the day. The Highs & Lows journal is one of our very first products and one of our absolute favorites! 
When our children were younger we would record the highs and lows of their day.
By doing this our children saw how easy it was to find and celebrate so many highlights of their day. Often times they could not find a low, the taught them quickly to focus on all of the good and blessing they have.
If there was a low they were able to share open with us and we were able to help them navigate through a hard situation.
This became a fun nightly tradition at the dinner table. We would laugh for hours at all of the fun things that happened over the day.
In addition, we started asking a question of the day! This could be something simple such as "If you were invisible for a day what would you do?". To a deeper question such as, "If you could change one thing in the world what would it be?"
Writing down these moments became a highlight in our lives. Now that the kids are older we still pull out our Highs & Lows Journal each time we are together as a family. This tradition has become a staple and has strengthened our relationships. We know this can be happy for your family as well!

We love looking back and reading over these memories.  A few years ago I wanted to create a linen heirloom journal they could use with their family. And that was how the Highs & Lows Journal was born.

Choose between Forest Green, Midnight Blue, Dusty Rose & Heather Grey.
Important Shipping and Fulfillment Information
Read
Close
We want to provide the best experience and help you plan for the scheduled arrival of your order. Please understand that shipping by carriers including USPS may experience delays starting from early November through Christmas Day due to increased volume.
Fulfillment:
We fill your order in 2-3 business days in the order in which it was received.
Carrier Pick-up:
Your order gets picked up the next day by the carrier and gets scanned in at the facility by the end of the day.
Delivery:
The carrier transports and delivers your order. Please understand that for USPS in particular, that the number of days specified in the shipping method is a best estimate and not a guarantee.
Shipping Cost:
The shipping cost is calculated by the carrier at checkout based on the destination address. We are a small business that lacks the buying power of much larger online retailer and often subsidize part of the shipping costs.
Customs:
Customs duties may be charged on international orders and are your responsibility. We are unable to anticipate or calculate customs duties prior to shipping your order.