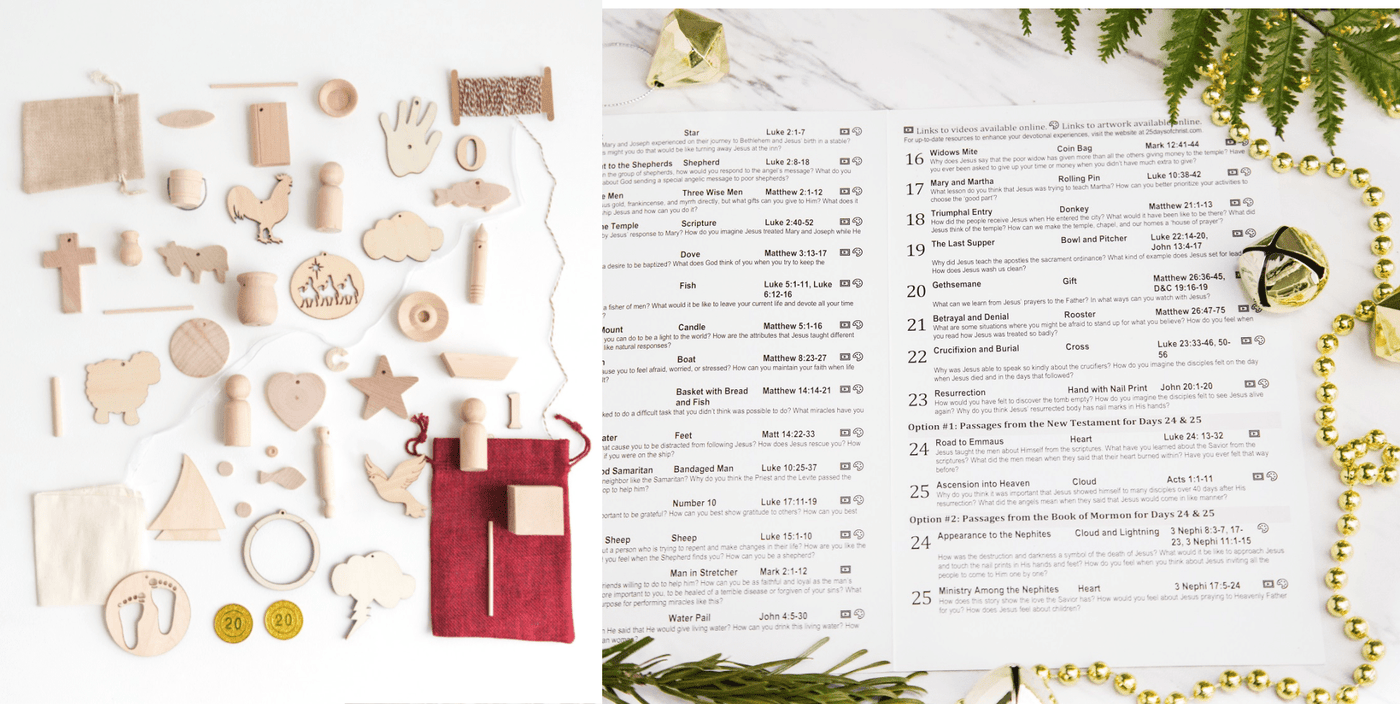 New Testament and Book of Mormon Edition
Unfinished Ornament Kit New Testament & Book of Mormon
$54.99 $0.00
NEW TESTAMENT & BOOK OF MORMON VERSION - Devotional Booklet includes all New Testament stories but adds two additional stories of Jesus from the Book of Mormon
A Christ-Centered Christmas

Start a new tradition this year that puts Christ at the center of your Christmas celebrations. Gather your family each night in December to study the life and teachings of Jesus Christ as you countdown to Christmas. Children of all ages will love and remember these scripture stories as they place a symbolic ornament on your tree after each night's reading. Build lasting memories as you fill your home with the true meaning of Christmas. What better gift can you give your children and extended family this Christmas season? 
Included in Your Purchase
This kit comes with the raw wood and fabric materials needed to create your own set of ornaments to celebrate the events of Jesus Christ's ministry. (Basic craft supplies like paint and glue are not included).
You will also receive a small drawstring gift bag for presenting your ornaments each night. 
A reference card outlining each nightly devotional. 
Everything comes packed in a sturdy box that can be used for storing your finished ornaments year after year.
Instructions and suggestions for finishing each ornament are available on our website under the "Resource" tab.
Stories for this edition come from the New Testament and Book of Mormon. See the complete list of stories in this edition.
A New Testament only edition is also available.
Complete Your Tradition with These Companion Products
"The Good Shepherd" is a beautiful 56 page illustrated companion book that is the perfect match for The 25 Days of Christ ornaments. Includes an illustration, scripture reference, story summary, discussion questions and quote for each of the 25 Days ornaments.  Order "The Good Shepherd" Book Here
Advent Bags- Add an element of fun to your family tradition with our hand stamped advent bags. Included in this set are 25 high quality muslin cotton fabric bags with thick cotton drawstring cords, perfectly sized for your 25 Days of Christ ornaments. Each bag has been hand stamped with a number 1-25. ADVENT BAGS ARE NOT INCLUDED WITH THE 25 DAYS OF CHRIST SET. Order Advent Bags Here
Current ship times are 3-7 business days, shipping rates calculated at checkout.
Important Shipping and Fulfillment Information
Read
Close
We want to provide the best experience and help you plan for the scheduled arrival of your order. Please understand that shipping by carriers including USPS may experience delays starting from early November through Christmas Day due to increased volume.
Fulfillment:
We fill your order in 2-3 business days in the order in which it was received.
Carrier Pick-up:
Your order gets picked up the next day by the carrier and gets scanned in at the facility by the end of the day.
Delivery:
The carrier transports and delivers your order. Please understand that for USPS in particular, that the number of days specified in the shipping method is a best estimate and not a guarantee.
Shipping Cost:
The shipping cost is calculated by the carrier at checkout based on the destination address. We are a small business that lacks the buying power of much larger online retailer and often subsidize part of the shipping costs.
Customs:
Customs duties may be charged on international orders and are your responsibility. We are unable to anticipate or calculate customs duties prior to shipping your order.